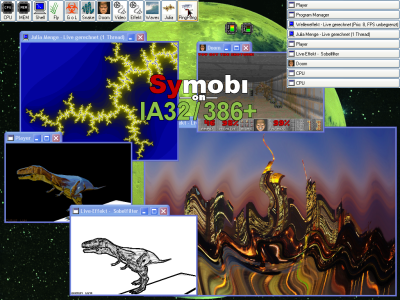 A new kind of operating system
This is the website of Symobi, an entirely different operating system. It is not related to other existing operating systems in any way. It is based on the Sphere Microkernel and the core system µnOS, both also by Miray Software. The main intention behind Symobi is to combine a modern operating system architecture with a wide spectrum of valuable abilities. The result is modular and flexible. This makes Symobi a general purpose operating system, which can also be configured to accomplish specialized tasks efficiently. Currently, Symobi and the available drivers and system services are mainly targeted to embedded and mobile systems. But by its scalability and portability, Symobi can be used in almost any field of application based on modern processors.


More Information
If you want to know more about Symobi, its features, abilities and strengths, please move on to the overview area. Symobi is based on the Sphere Microkernel and the µnOS core system. For more Information about Sphere and µnOS, please refer to our company homepage. This website will be extended with more information in the future. Hence, if you have any remaining questions about Symobi, please do not hesitate to contact us by email.


Screenshots
In the screenshots area we have gathered some screenshots which outline the history of Symobi. Therefore it does not only show current screenshots but also some of older versions to get an impression of the (visual) progress of Symobi. Please have in mind that the visual appearance is not a measure of capability of Symobi since its major abilities are under the surface. Though, the screenshots show a certain progress that we think may be interesting to see.


Live-Demo
Symobi is still an embedded RTOS which is used in special appliances and is usually customized for the respective application. It is not an end-user operating system. However, while Symobi becomes more and more elaborate, it may also become useful for certain tasks on standard PCs. The freely available live-demos are intended to give an impression of Symobi. All writing and all screenshots cannot impart the experience of a live and real impression of Symobi. So, have fun with the live-demo!